Merged port attractive to investors from home and abroad
The total throughput of Port of Antwerp-Bruges amounted to 68.7 million metric tonnes in the first quarter, a drop of 4.5% compared with the same period last year. This decline is due to the still complex geopolitical and macroeconomic context, which has led to a decline in the container segment and significant shifts in cargo flows. To keep responding to these demands, the port is committed to sustainable growth together with new and existing pioneers.Operational challenges at container terminals and congestion have slowly declined since the third quarter of 2022. Economic uncertainty and inflation led to a global slowdown in demand for container shipping and the cancellation of sailings, particularly those from the Far East. Along with the ongoing conflict in Ukraine, which caused Russia-related traffic in the first three months of 2023 to be two-thirds lower than in the same period last year, this has resulted in a 6.6% drop in container throughput in tonnes and 5.7% in TEUs, compared to the first quarter of 2022.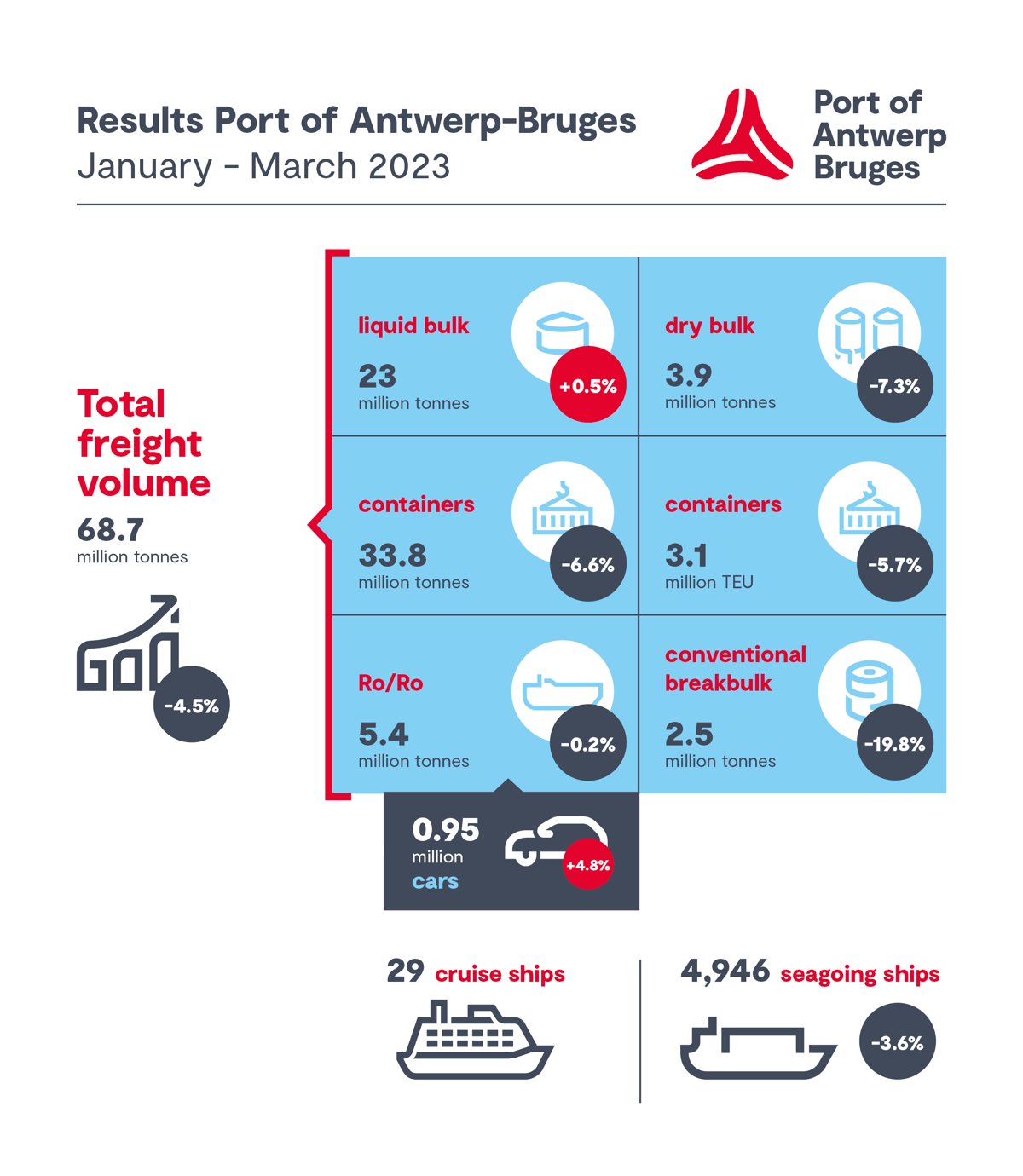 Conventional general cargo throughput volumes are in line with the pre-COVID-19 period, but down 19.8% compared to a very strong first quarter in 2022, when a robust post-COVID-19 recovery resulted in high throughput figures. The slowing economy is accompanied by a decline in steel demand. This caused a 21.9% drop in throughput of steel, both in incoming and outgoing flows.
The dry bulk segment is down 7.3%. This is mainly due to the decline in fertilisers, the largest product group within dry bulk. Although the production of these has been increasing since March due to the fall in energy prices, overall throughput of fertilisers was still down 26.4% during the first quarter. In turn, the continued high demand for coal for power generation translated into throughput that was almost three times higher than in the same period last year. Throughput of sand and gravel also increased (+9.3%).
The liquid bulk segment posted growth of 0.5%. Besides an increase in the throughput of LNG (+23.3%), partly as an alternative to natural gas via pipelines from Russia, there was also growth in the throughput of diesel, fuel oil and energy gases. Chemical throughput is picking up compared to the last quarter of 2022, when high energy prices resulted in lower production rates or complete stoppages, but still remains 21.3% below the record of the first quarter of last year.
Roll-on/roll-off traffic is maintaining the status quo, but within the new-car segment there is a resurgence. The first quarter of 2023, saw 904,901 new cars shipped in and out, up 7.2% from 2022. Throughput of all transport equipment has grown by 4.3%, while unaccompanied cargo (excluding containers) is showing a decrease (-2.4%.) The share of these volumes related to the United Kingdom fell by 5.6% in the first quarter, while traffic to and from Ireland increased by 14.2%.
Port of Antwerp-Bruges is and remains the largest car port in the world. The terminals have a total area of more than 400 hectares with a parking capacity of 210,000 units.Cars from all major brands in the automotive sector pass through and, for many brands, Port of Antwerp-Bruges is the intercontinental and European hub.
In the first 3 months of 2023, Zeebrugge welcomed 29 cruise ships. Efforts to spread cruise tourism throughout the year are thus delivering a new first-quarter record.
In the first quarter, 4,946 ocean-going vessels called at the port, down 3.7%. The gross tonnage of these vessels fell by 3.8%.
Consolidating role as a world port: merged port attractive to investors
Several investments in the first months of 2023 have demonstrated that the port, which merged a year ago, is attractive to investors from both home and abroad. American pioneer PureCycle, for example, announced the construction of a plastic recycling plant in the NextGen District, a hotspot for the circular economy in the heart of Antwerp's port site, where excavation work will start later this year. In addition, global player Vopak, a Dutch tank storage company, will sustainably redevelop the former Gunvor site in Antwerp. The company will work with Port of Antwerp-Bruges on joint development/fulfilment on the basis of renewable energy, among other things. This marks another important step towards a climate-neutral economy. In order to remain a top-class world port, the port must prioritise efficient infrastructure and additional container capacity.
The process of modernising and deepening the Europa Terminal, which has now begun, will ensure that the latest generation of mega-ships can continue to call at this location. This trend of using ever larger container ships will become even clearer in the coming weeks as records are successively broken by visits by the MSC Tessa (24,116 TEU), the OCCL Spain (24,188 TEU) and the MSC Loreto (24,346 TEU).
Jacques Vandermeiren, CEO Port of Antwerp-Bruges: "These results show that the world port is at the centre of a continuously challenging geopolitical and macroeconomic context. But despite these disappointing figures, the outlook for 2023 remains positive. Falling energy prices, an improving Chinese economy and signs that the liner market is also picking up are reasons to be confident about the future. ​ Moreover, the complementarity of the two port platforms allows us to better respond to shifts in cargo flows."
Annick De Ridder, Port Alderman of the City of Antwerp and Chairman of the Port of Antwerp-Bruges Board of Directors adds: "Together with the innovative port companies and the new pioneers who are bringing a range of jobs to our port, we remain committed to sustainable growth. In addition, investments in strategic infrastructure such as the modernisation of the Europa Terminal are indispensable to ensure our position as a world port and to live up to our role as the economic engine of Flanders. Filling the many vacancies is a significant challenge in this regard. To this end, we will soon launch a promotional campaign and a digital job platform together with our partners."
Dirk De fauw, Mayor of the City of Bruges and Vice President of Port of Antwerp-Bruges: "Port of Antwerp-Bruges is the world player for the automotive sector. That position will only strengthen given the investments in additional capacity by existing operators and new players who choose our port as a base from which to conquer the European market. I am therefore confident that we can again realise growth here in 2023. Furthermore, the record number of cruise ships that called at Zeebrugge this first quarter is confirmation that efforts to better spread cruise tourism throughout the year have succeeded. In the quieter winter months, cruise tourism is a boon to the tourist industry in Bruges, Blankenberge, Brussels, Ghent, Ypres and Antwerp."
We have collected the key port facts & figures of 2022 in a booklet. You can download the digital version below.