According to TradingPlatforms, Saudi Arabia's state-owned energy corporation, Saudi Aramco, has highlighted the huge earnings made by gas and oil-rich nations during the energy crisis after making revenues of $48.4 billion in the third quarter, up 90% from $25.5 billion a year earlier.
The company attributes this profit surge to high energy prices due to the ongoing conflict in Ukraine. This is Aramco's highest profit since its shares were listed on Riyadh's stock market in December 2019.
The war in Ukraine has disrupted energy supplies and sent oil prices skyrocketing. The oil prices have more than doubled since early 2016. This has been a boon for oil producers, who have seen their profits soar in recent years.
Tradingplatforms's Edith Reads says, "Saudi Aramco is just the latest in a long line of oil giants to announce bumper profits this year. ExxonMobil's profit, for example, came to $17.6 billion in the second quarter, excluding special items. The company, nearly double what it made in its very profitable first quarter as oil and gas prices started to soar in the wake of Russia's invasion of Ukraine.
Reads concludes, "It is clear that the energy crisis is benefiting the oil-rich nations and those companies involved in extracting and selling fossil fuels. The high prices may be a cause for concern for consumers, but for now, it seems that the energy producers are reaping the rewards."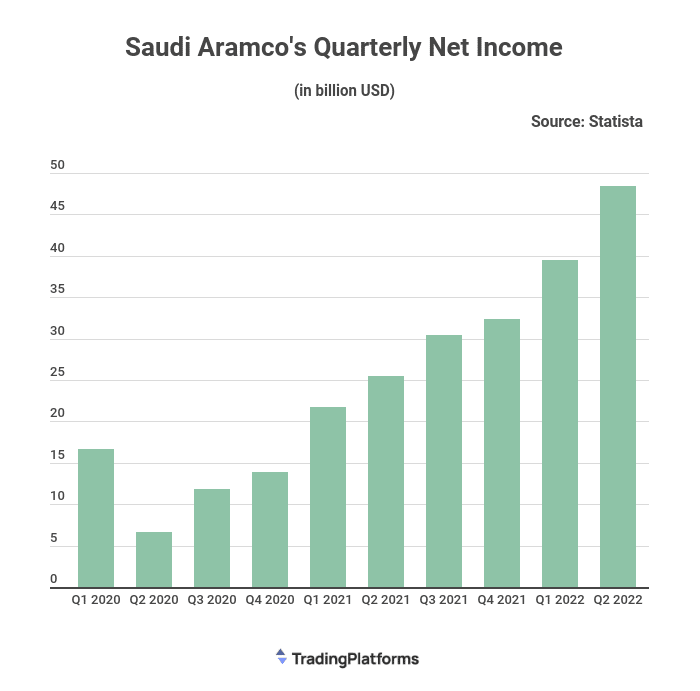 Oil Companies Reaping Unprecedented Profits
Aramco is just the latest oil producer to benefit from these high prices. Some other world's biggest oil companies have also seen their profits surge this year. Chevron, ExxonMobil, and Royal Dutch Shell saw their profits more than double in the second quarter of this year.
These record profits are a testament to the resilience of the oil industry. Despite concerns about climate change and the rise of renewable energy, the oil industry continues to thrive thanks to high energy prices.
Aramco is using windfall to pay down debt and expand its production capacity. The firm believes demand for its oil and chemicals will continue to be strong even as the world seeks to reduce reliance on fossil fuels. Aramco intends to increase its production capacity by investing in new projects, which would help meet growing energy needs while diversifying Saudi Arabia's economy.
As the company looks to increase its oil production capacity to 13 million barrels a day and gas production by up to 50%, it is also searching for partners to invest in carbon capture, renewable energy, and hydrogen production. This is all part of the goal to reach net zero carbon emissions from operations by 2050.
The Paris Climate Agreement
Aramco's substantial profits come as the world seeks to reduce its reliance on fossil fuels. The Paris climate agreement, signed by nearly 200 nations, calls for a reduction in greenhouse gas emissions to combat climate change.
However, it remains to be seen how successful the world will be in reducing its reliance on fossil fuels. For now, it seems that the oil industry is still going strong, thanks to high energy prices.