The first intercontinental containership route of Hainan Free Trade Port (Hainan FTP) – "Yangpu – South Pacific – Australia" – was opened at Xiaochantan Terminal in Yangpu. It is the first intercontinental route opened in Hainan FTP which adds to the expanding foreign trade route network of Yangpu.
Two vessels, each with 1,740 container slots, are currently serving this route, which is operated by COSCO SHIPPING Lines, a subsidiary of COSCO SHIPPING. One vessel will depart from the terminal every two weeks. The route covers Hong Kong (China), Cebu (the Philippines), Lae and Port Moresby (Papua New Guinea), as well as Townsville and Darwin (Australia), functioning as an efficient direct sea transportation route for the trading of coconuts, logs, beef, mineral products and fast moving consumer goods between China and countries in the South Pacific region.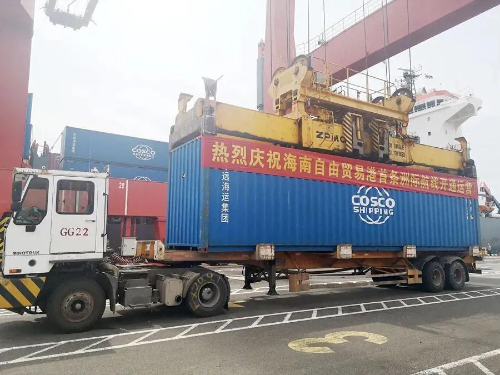 The opening of the intercontinental route in Hainan is a first ever breakthrough , which marks the beginning of a transition in the construction of a regional international container hub port in Yangpu from the "offshore" era to the "deep sea" era. It has also filled the route gap between Yangpu and the Philippines, tightened the connection between Yangpu and Hong Kong, and greatly improved the foreign trade route network of Yangpu. Moreover, the route has laid a solid foundation for Yangpu to play the role of a sea gate for the New Western Land-Sea Trade Corridor, vigorously develop foreign trade water-water transfer, and build itself into an important portal between China and the Indo-Pacific oceans.