Astrocast announced today the signature of a Memorandum of Understanding (MoU) with iWire Group, aiming to have both companies becoming technology partners. The two companies believe in building sustainable infrastructure for deploying mass IoT solutions and will cooperate in offering IoT end-to-end solutions using different connectivity technologies. As the first step of this partnership, Astrocast and iWire will collaborate in the development and production of devices equipped with both Sigfox terrestrial connectivity and Astrocast Satellite IoT (SatIoT) services to offer an ubiquitous IoT end-to-end solution to iWire's customers.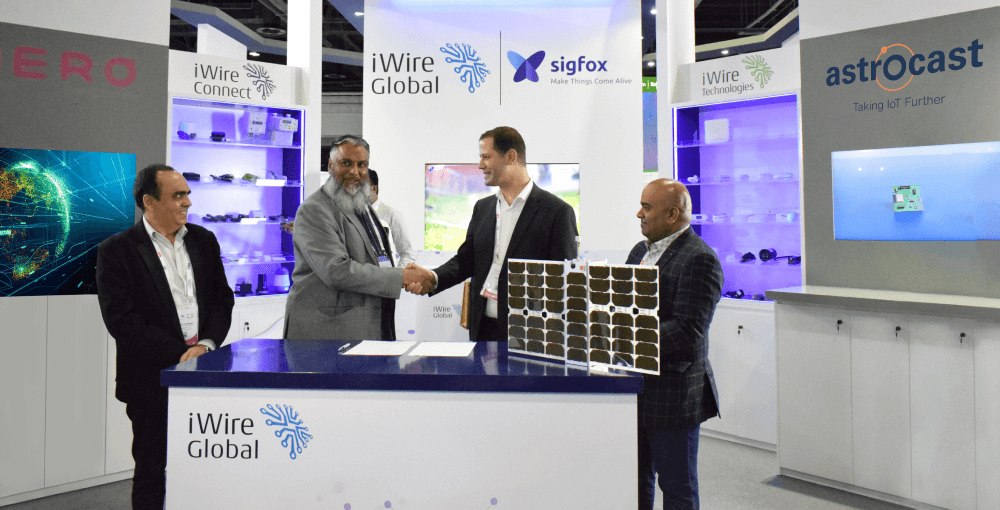 "We are thrilled to kick-off this partnership. Alongside iWire, Astrocast will demonstrate how SatIoT can supplement existing LPWAN networks and enable very neat IoT solutions for remote areas."

said Fabien Jordan CEO at Astrocast
This partnership will cover applications development in numerous countries in Asia and the Middle East.
"There is a unique opportunity to deliver immense value in the communities we serve using innovative technologies and sustainable solutions and we are excited to partner with Astrocast to enhance our offer."

said Ahmed Fasih Akhtar, Founder, CEO of iWire Group
Astrocast is excited to attend GITEX Technology Week 2021, as part of the iWire Global Pavilion at the Dubai World Trade Center. Both partners will demonstrate the benefits of the complementarity between space and terrestrial IoT:
• Satellite's ubiquity guarantees continuous asset tracking in remote areas
• Low-latency communications from assets all the way back to headquarters
• Ultra-low power terminals with dual communication systems
• Satellite L-band spectrum enabling small and low-profile patch antennas
• Two-way communications