From May 12 to 14, a delegation led by Mr. Fu Gangfeng, Director of the Board and President of COSCO SHIPPING, made a business trip to Anhua County, Hunan Province, to inspect local fixed-point poverty alleviation. The delegation inspected the projects of poverty alleviation through industrial development supported by the corporation. They also visited the school and nursing home built by the corporation to extend solicitude to teachers, students, and elderly persons living alone, providing them with gifts as well as educational and medical supplies.
At the poverty alleviation symposium held with the Anhua county government, Mr. Fu Gangfeng said COSCO SHIPPING will provide further assistance to consolidate the achievements of poverty elimination, minimize the adverse effects of COVID-19, and continue to explore new modes of poverty alleviation through industrial development, consumption, and employment to facilitate the county's rural revitalization and help local people lead a relatively comfortable life. On behalf of the one million local officials and residents, Mr. Liu Yonghui, Party Secretary of Anhua County, extended his sincere gratitude to COSCO SHIPPING for its long-term assistance. Three donations were made at the symposium, including the contribution of another RMB 10 million of poverty-relief funds to Anhua, the purchase of poverty alleviation products worth RMB 1 million, and the donation of a negative pressure ambulance to the Second People's Hospital of Anhua County.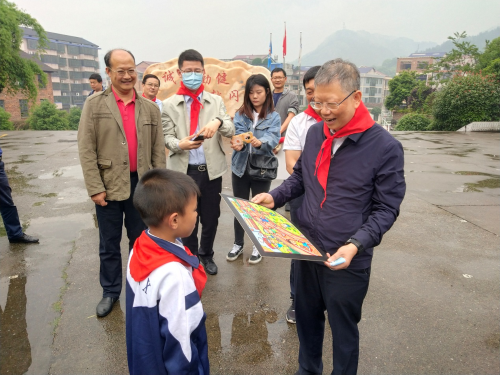 Mr. Zhang Shanmin, Chairman of the Trade Union of COSCO SHIPPING and related staff from the Executive Division/Office of BoD, Trade Union, and Poverty Alleviation Office, also joined the inspection.
Since it began to provide fixed-point assistance to Anhua in 2010, COSCO SHIPPING has sent nine officials in eight batches to the county and invested more than RMB 60 million in poverty alleviation. These funds have benefited 450 villagers' groups of 135 administrative villages in 23 townships (towns). As a result of the concerted efforts of the corporation and residents, the county eliminated poverty in April 2019.